So, eine Woche hattet ihr zur Diskussion, hier nun die Auflösung und die Spiele. Wobei ich Nachkommentieren irgendwie blöd finde, weil ihr ja eh sehen könnt was passiert. Aber gut, da müssen wir nun durch. Als Bonus gibt es noch ein interessantes Spiel obendrein, daran teilnehmen durften Mentor of The Meek, Huntmaster of the Fells, Geist-Honored Monk, Splinterfright, Olivia Voldaren, Mondronen Shaman und vieles mehr.
Nach langer Zeit mal wieder ein Lebenszeichen von mir. Ich halte mich aber relativ kurz, da ich diesmal eure Meinung suche.
Folgenden Pool habt ihr nach dem Draft: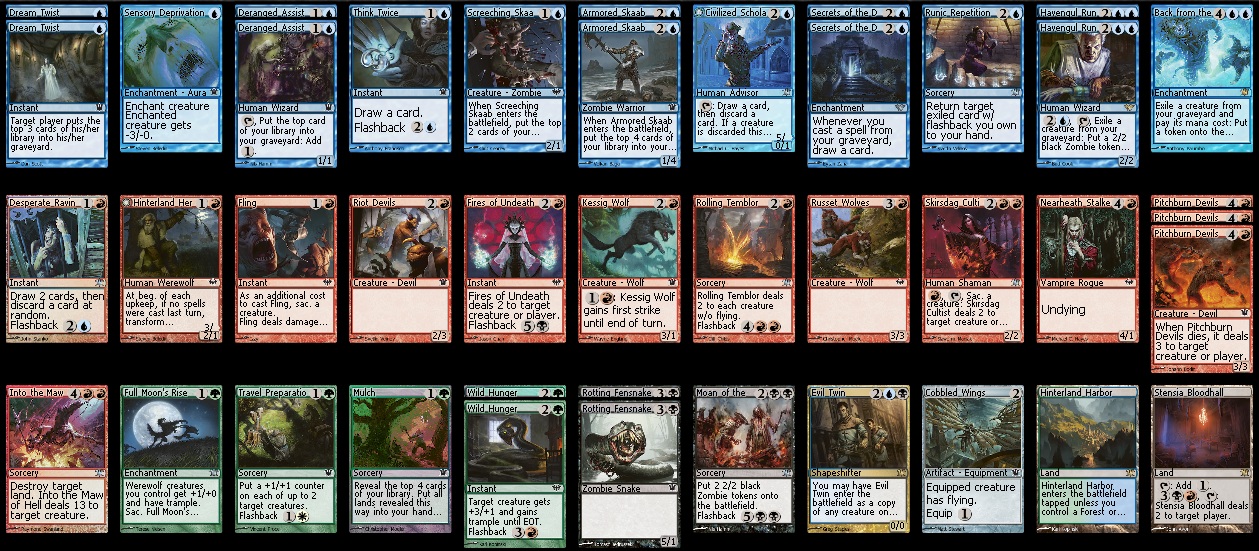 Baut daraus ein Deck. Eure Meinungen sind gefragt.
Im Prinzip gibt es ja 4 Möglichkeiten:
1) Man spielt solides UR
2) Man splasht Schwarz
3) Man splasht Grün
4) Man ist gierig und splasht Schwarz und Grün
Wie ich es gebaut habe und damit 3:0 gegangen bin, verrate ich mal noch nicht. Aber ich bin gespannt was ihr dazu sagt und wie ihr den Pool bauen würdet.
PS: Falls interesse bestehen, kann ich auch die Replays mit Camtasia aufnehmen und hochladen. Sind gar nicht mal so uninteressant.